posted September 18, 2023
Host / Hostess - Salt Rock Kitchen
Job Description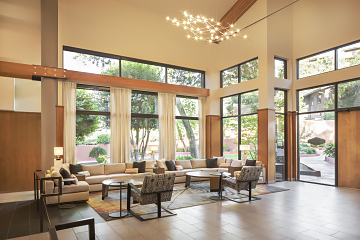 Host/Hostess
Job Description:
As the first person to greet and welcome guests, the restaurant host/hostess is a critical link to guest satisfaction. The host/hostess greets and seats guests while coordinating guest reservations and responding to inquiries in an efficient, courteous and professional manner that results in maximum satisfaction. This person should be very comfortable interacting with guests and potential clients in a highly professional manner.
Greet and make all guests feel welcomed to the restaurant.
Present a clean and professional appearance at all times.
Maintain a friendly, cheerful and courteous demeanor at all times.
Ensure guest satisfaction by responding to guest inquiries with accurate information and a positive attitude.
Promote hotel amenities and services to guests using personal knowledge and effective selling techniques.
Welcome and effectively resolve guest questions, issues and complaints with supervisor assistance as needed.
Set up host stand, review guest reservation book and maximize the set-up of the dining space to provide positive memorable guest experiences.
Maintain a station chart and cover count for the restaurant while recognizing the maximum workload capacity of each server in order to meet service standards.
Take guest reservations or provide information regarding the restaurant or any other hotel amenity or service.
Inspect and maintain daily menus to ensure quality, condition and appearance while developing a complete working knowledge of all menu items and daily specials.
Assist with special projects (menu changes, signage, etc.) as needed.
Ensure proper table set-up and make minor adjustments as needed.
Examine each table for missing items. Remove any items that do not meet cleanliness standards.
Job Requirements:
High school diploma or GED
At least 18 years of age
Basic computer skills
Must be able to read, communicate effectively and have superb interpersonal skills
Must be able to work well under pressure while retaining tact and composure when resolving
guest complaints
Amara Resort and Spa
100 Room Hotel
DISCOVER A LIVELY BOUTIQUE RESORT IN SEDONA

An experience unlike any other
Calling all outdoor-loving extroverts who need to unwind: Amara Resort & Spa is a unique combination of social hub and private refuge. Located at an elevation of 4,500 feet at the foot of vibrant Uptown Sedona, we put you within steps of eclectic shops, lauded dining and fine art galleries. Al fresco pursuits are also close by: golf, hiking, paddling, hot air ballooning and more. You can even borrow one of our mountain bikes to hit the trails.
When you return to our hidden retreat, you'll find many temping ways to decompress and unwind. Bask in the sun at our infinity-edge pool, enjoy a heavenly massage at the Spa, compare notes with fellow hikers on the courtyard or take in a nightcap while cozying up to one of the outdoor fire pits under the stars.
Welcome to your Sedona dream come true. 
---

100 Amara Lane
Sedona, AZ 86336