posted November 8, 2023
Room Attendant
Job Description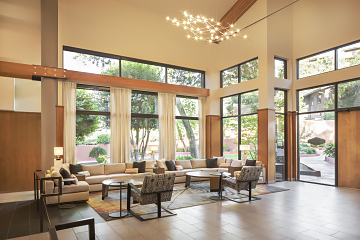 Room Attendant
Job Description:
The Room Attendant is responsible for providing a clean room product and maintaining a sense of urgency in handling all related matters.
Attend team briefings.

Greet all guests and anticipate their needs.

Ensure confidentiality of hotel guests.

Follow proper procedures for entry into guest rooms.

Accommodate guest requests for housekeeping items or additional supplies expediently and courteously. Follow up on delivery and return of all such items.

Monitor and handle guest complaints following guest services training procedures and ensure guest satisfaction, immediately reporting any complaints to the supervisor.

Ensure security of guest room access and hotel property.

Use correct cleaning chemicals for designated surfaces, according to OSHA regulations and hotel requirements.

Clean guest rooms by category of priority or as directed in line up.

Service assigned guest rooms.

Replace tissue and bathroom amenities in correct amount and location.

Remove dirty bed linens and make bed with clean linens.

Replace laundry bags and slips.

Remove items left by guests from closets and dressers.

Dust inside closets, polish all furniture, clean all appliances and lamps.

Ensure proper working order of all lamps, radios and other appliances.

Realign furniture to floor plan.

Check under bed(s), chairs and sofa for debris and remove if present.

Inspect condition of all furniture and report any damages to the team leader.

Inspect condition of amenities on desk, drawers and guest service directory; replace as needed.

Remove dust, dirt, marks and fingerprints from doors.

Remove dust, dirt and smudges from A/C unit, vents, grids and thermostat.

Remove dust, stains and marks from all baseboards, ledges and corners.

Vacuum carpet and spray air freshener in guest rooms as well as under the bed and around in the corridor.

Ensure security of any assigned keys.

Know, comply with and enforce all hotel and departmental standards, policies and procedures.

Turn over any lost and found items immediately.

Maintain complete working knowledge of: V.I.P.'s, scheduled in-house group names, background, activities, locations and times as well as special requests/arrangements.

Correctly use and maintain equipment.

Follow all department policies and service procedures.
Job Requirements:
High school diploma or GED preferred
18 years of age

1-3 years Housekeeping experience

Knowledge of effective organizational practices

Ability to maintain strict confidentiality
Amara Resort and Spa
100 Room Hotel
DISCOVER A LIVELY BOUTIQUE RESORT IN SEDONA

An experience unlike any other
Calling all outdoor-loving extroverts who need to unwind: Amara Resort & Spa is a unique combination of social hub and private refuge. Located at an elevation of 4,500 feet at the foot of vibrant Uptown Sedona, we put you within steps of eclectic shops, lauded dining and fine art galleries. Al fresco pursuits are also close by: golf, hiking, paddling, hot air ballooning and more. You can even borrow one of our mountain bikes to hit the trails.
When you return to our hidden retreat, you'll find many temping ways to decompress and unwind. Bask in the sun at our infinity-edge pool, enjoy a heavenly massage at the Spa, compare notes with fellow hikers on the courtyard or take in a nightcap while cozying up to one of the outdoor fire pits under the stars.
Welcome to your Sedona dream come true. 
---

100 Amara Lane
Sedona, AZ 86336